A Guide To UK Trademark Classes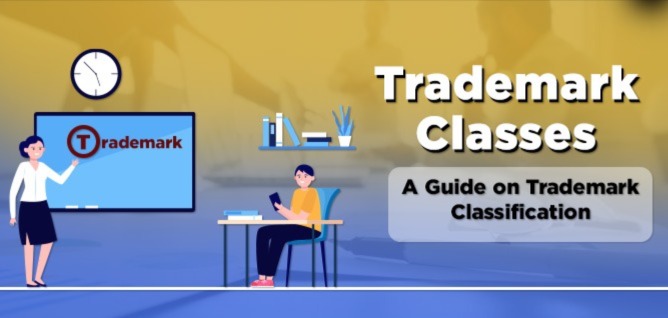 A key part of the trademark registration process is making sure you have the correct goods and services protected for your business. There are 45 different classes of goods and services, and some of these overlap with each other, which means selecting the appropriate classes is essential. Many don't realise that all trademarks are categorised and they assume that when they register a trademark they will be fully protected in every industry sector. However, this isn't the case. 
It isn't uncommon to see businesses with similar names or logos in different industries when there is no overlap in their goods or services. For example, one business could be supplying paint and the other producing dairy products and there would never be an issue with the use of the respective trademarks. 
There is no denying that trademark classes are extremely complicated and difficult to get your head around, yet it's crucial to ensure that you're registering your trademark in the right classes. As an example, lighting is in Class 11, but light switches and dimmers are in Class 9. Alcoholic drinks are in Class 33 – but beer is in Class 32. Accountancy is in Class 35, but financial services are in Class 36. So ensuring you place your products/services in the right class is essential. To help you understand what trademark classes are and why they're so important, Trademark Eagle has answered some of the questions we're commonly asked by business owners. 
What are the different trademark classes?
As mentioned above, all trademarks are categorised into different classes according to the products or services the brand provides. Depending on what your business entails, you may need to register your trademark in several classes to ensure it's easy to enforce your rights against the unauthorised use of the same or a similar brand.
We live in a fast-paced world, so in an attempt to keep up with all of the advancements in goods and services, trademark classes are continually updated and amended. This is part of what makes trademark classes so complex and it's advisable to learn more about each individual class before making your trademark application. 
Why is it important to register the right trademark classes?
Simply put, if you don't register a trademark in the correct classes, you will not necessarily have the correct protection, which then impacts on your ability to protect your business and there is a chance that a competitor will be able to adopt your trademark and register it themselves. This can result in damage to your business, your reputation, dilution of your brand and loss of revenue, and it will be more difficult to prevent someone unauthorised from copying your brand, products and services. 
When you register your trademark correctly, you won't have to worry as much about other businesses in your industry using the same or a similar trademark without your permission. If they do infringe on your trademark, it will be easier and less costly to enforce your rights too. You may find that businesses in other industries have a brand name or logo that is similar to yours, but there won't be any confusion for existing or prospective customers. 
Since it's so important to register your trademark in the right classes, you need to ensure you're using an official and up-to-date database to register your trademark. Trademark Eagle uses public sector information provided by the UK Intellectual Property Office and licensed under the Open Government Licence v3.0 and data provided by the EU Trademark Registry (EUIPO), and our software is continuously updated to ensure our trademark classes are always kept current. 
How many UK trademark classes are there?
There are currently 45 recognised UK trademark classes, and they cover every product and service imaginable. Some similar or related products and services will be grouped together into one trademark class, for example, computers, software and some electronic goods are all in the same class – along with protective clothing and fire extinguishers (so you see there sometimes seems to be no rhyme or reason to the classification of products). 
It's virtually impossible that you will have a product or service that isn't covered by a trademark class. Currently the Metaverse, which is a difficult concept and a bit of a headache for people wanting to protect themselves in it, is being introduced for classification – so you can see, all things can be protected.
You can find out more about each of the trademark classes on our website by clicking on the information symbol next to the class. Also, as part of the process of assisting our clients with their trademarks, we will review your business and the goods/services you need and draft a description for you to check. We often suggest classes that you need to consider as part of the overall protection and you can then decide whether to file for these. 
How do you select the right trademark classes?
Doing some research before you apply to register your trademark will be very useful and this will help you to ensure you're selecting all of the right trademark classes. As we have said, it's really important to remember that sometimes, your products or services may fall under more than one trademark class and therefore, you need to register your trademark in all relevant classes. It isn't uncommon for businesses to select several trademark classes during the application process. 
When you submit a trademark application on the Trademark Eagle website, our experts will carefully review the classes you have selected before registration. We will ensure that your business will be correctly protected and that you do not overlook important classes. This is a crucial part of the service we provide, and it's included as part of our fixed filing fees in both the UK and EU.
Getting some advice about UK trademark classes
If you're interested in registering a trademark in the UK or anywhere else in the world and you need some assistance, Trademark Eagle is here to help. We were established in 2012, and since then have been providing a straightforward trademark service and we have helped an abundance of businesses with their trademark applications. Currently, we look after over 4,000 UK trademarks and about 1,000 EU marks as well as numerous trademarks around the world. Your trademark is as important to us as it is to you and we are on hand to help you search, register and protect your trademark.
Explore our website today to find out more about how our team can support you during the trademark registration process. If you have any unanswered questions about UK trademark classes, feel free to get in touch with us today by phone on 01223 208 624, or email enquiries@trademark-eagle.com.